Download the Hill Ridge Farms Screen Saver!
Spend a day in the country without leaving your computer! The sun moves slowly across the sky to the tune of "Turkey in the Straw," while the Hill Ridge Farms Express and a Hay Ride wagon cross the green fields of the Farm. A car and a school bus drive along the road, and even a little stray goat ambles along. (You can turn the music on or off if you wish.)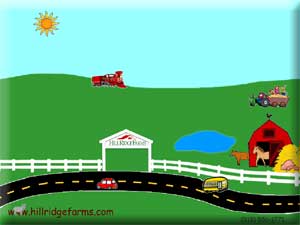 Click here to download the free screen saver!
Parents: this screen saver runs on any Windows computer. Just click the picture above, choose "save file," and when your download is finished, double-click the file you have saved to tell Windows to install it - that's it, you're done! (If you want to turn off the music, right click your desktop, choose "properties" and select the Screen Saver tab. There will be a "Settings" box there where you can turn the music on or off!)